Best Plumbing Heating/Air Conditioning Company Servicing Clifton Park, Scotia/Schentady, Gloversville, and surrounding Captial District: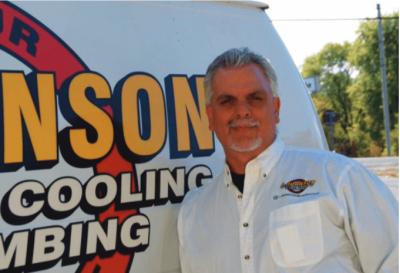 A. Johnson Plumbing and Heating, Inc.
By Bill Clizbe
The Leader Herald
JOHNSTOWN - Working in the area for more than 34 years, A. Johnson Plumbing and Heating, Inc. provides professional residential and commercial plumbing, heating, ventilation and air-conditioning services (HVAC) at affordable prices.
These professional certifications also help the company assist its clients in finding and receiving rebates and incentive and low-interest financing related to environmental upgrades in their homes.
Our readers have chosen the company as the top plumbing, heating and air conditioning company in the area.
Reviews posted on their website show 5-star ratings from their customers in all facets of their business and all reviews cite the professionalism courtesy and through performance of the A. Johnson employees.
Anthony Johnson, the sole owner of the family-run business, attributes the company's success to thorough, always ongoing, training of his 18 employees and to his "milkman" theory of customer support that harkens back to times when the milkman came to your door every day and was a trusted friend and neighbor. He wants all of his customers to feel that same trust and friendship in his business dealing with them.
Johnson pointed out that his service trucks are "one-stop shopping" and carry with them a large variety of repair parts to include things like new water heaters, both gas and electric, on the trucks to minimize the time customers would be without service and the inconveniences that loss causes.
Located at Scotia, Clifton Park, Gloversville Johnson's motto is "Saving the Environment, One Home at a Time."
The company can be reached at (518) 581-9776 or visit their website – www.yeswefixit.com – for a complete list of their services or to schedule a repair, energy assessment or estimate.